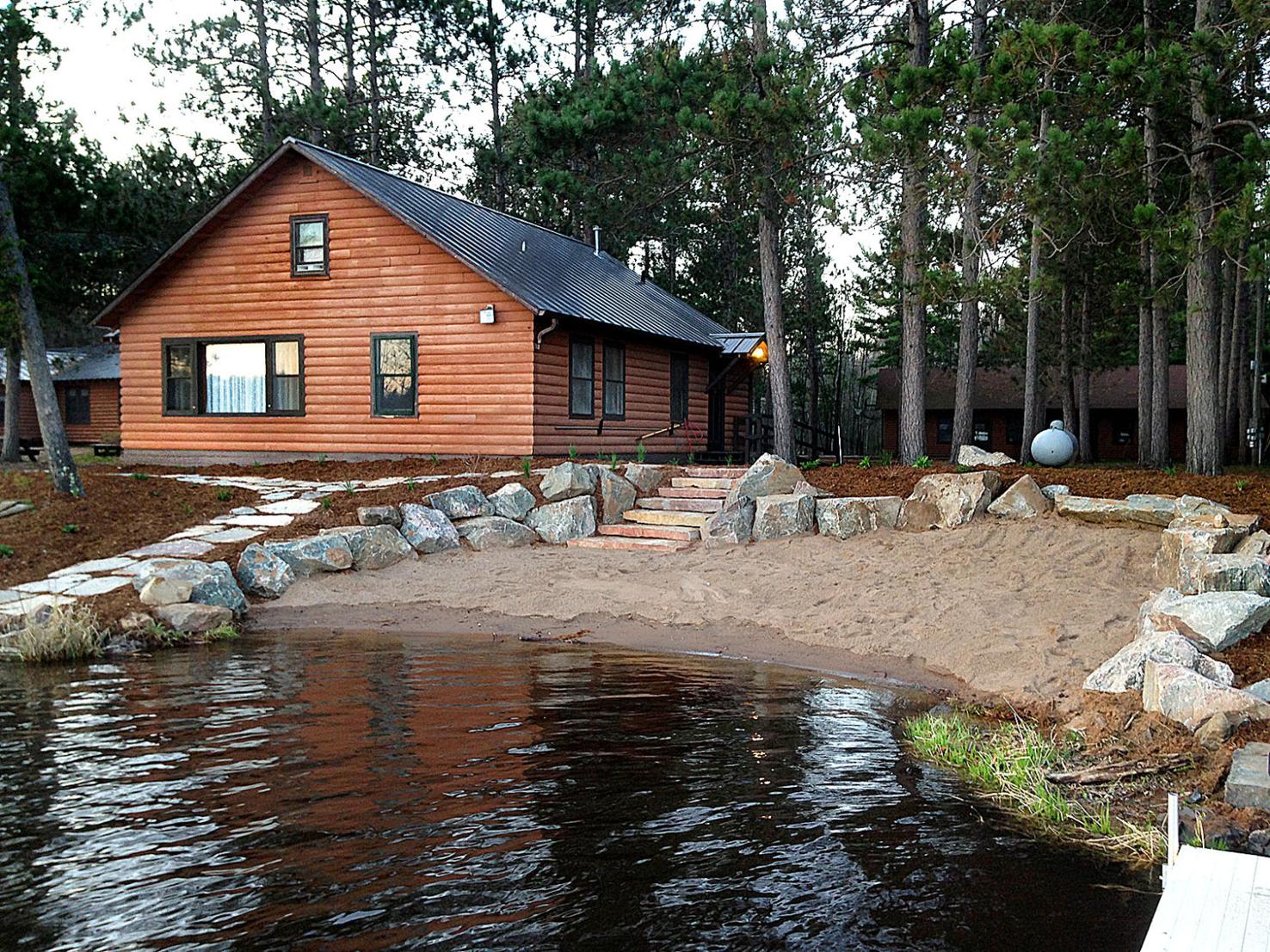 Grace Bible Camp will be celebrating it's 45th year of youth ministry based out of northwestern Wisconsin. Our camp is run completely by volunteers and powered by donations. We are currently accepting registrations for grades 4-12 for our 2023 camp the week of June 25th through June 30th. Registration is on a first-come, first-served basis. If a group is full the website will be updated and you'll be added to a waiting list.
everything starts With the Bible!
Each day includes three hours of Bible instruction as well as nightly presentations and campfire discussions.
Camp Theme:
Seek Those Things Which Are Above
Colossians 3:1-3
Campers will enjoy Bible study, singing, friendships, great food, campfires, crafts, canteen, camp olympics, swimming, canoeing, paddle boating, basketball, volleyball, horseshoes, game time, nature trails and more.
The 2023 craft project will be building a bird house.
This is not an all-inclusive list but gives an idea of the items that are considered necessary for the best experience.
The camp textbook for the week is the King James Bible. Campers should bring their own Bible if they have one. If a camper arrives without a Bible they will be provided one.
Other suggestions: notebook, pens or pencils, pillow, bed sheet, warm blanket, pajamas, towel and washcloth, flip flops for shower, soap, shampoo and conditioner, toothbrush and tooth paste, light and warm outdoor clothing (extra socks), light jacket and rain gear, suitable footwear for hiking and games, swimwear (see CAMP STANDARDS for what is appropriate for Bible Camp), beach towel, mosquito repellant (a must have item), sunscreen, flashlight, fan and extension chord (also must have items), and a plastic garbage bag (for dirty clothes).
NOTE: Label all clothing and gear with camper's name.
Camp is NOT responsible for lost items. If clothing and gear is left at end of camp, they will be held for two weeks, then donated to a local charity. Lost items are set out during the week and at the end of camp for campers to claim.
CELL PHONES ARE FOR STAFF USE ONLY! It would be preferable for campers to leave their cell phones at home. Any Camper bringing cell phone to camp must turn it in to Camp Director. Director will put phones in a secure location. CAMPERS MAY USE STAFF CELL PHONES AS NEEDED.
Parents may TEXT Camp Director with Name, Contact Number and Camper's Name and Grade with a short message and Director will have the camper contact you. CALL Director if it's an EMERGENCY.
Camp fee for 2023 is $100. This includes the registration fee, daily canteen items, craft supplies, and one photo per camper. Campers may purchase extra photos for $4 each.
Camp Scholarships:
- All questions or requests regarding camper scholarships should be directed to the Camp Director either by email at northwoodsgrace@gmail.com or via text at (715) 370-4101.
- Scholarships are available for campers who may need financial assistance.
- If someone is interested in helping sponsor a camper, or provide monies for camp scholarships, please contact Camp Director and provide your name, preferred contact method, and your question or interest regarding camp scholarships.
The following information is provided for parents (or guardians), campers, and staff:
Please take time to read through this information so everyone knows what is expected.
Everyone will be required to sign the registration form indicating that you have read and are in agreement with the CAMP STANDARDS and policies. These standards are in place to ensure everyone's safety and to ensure an orderly and enjoyable camp for all.
If you have any questions concerning these CAMP STANDARDS, you may contact the Camp Director, Adam Arndt, via email at northwoodsgrace@gmail.com or via phone at (715) 370-4101.
All monies brought to camp must be turned in to the Camp Director during the check-in process. The Director will lock the money for safe keeping and return it to the camper when they check out for the week. All medications must be given to the Camp Nurse and will be dispensed by the nurse during the week at camp. Prescription medications must be in the original containers with instructions clearly marked.
The following items are NOT to be brought to camp: radios, CD or DVD players, any type of headset, electronic games, improper magazines or books, any illegal substances (including marijuana or narcotic drugs), or any other items that would detract from the atmosphere of a Bible Camp. If illegal substances are found in anyone's possession or in gear brought to camp, after an internal investigation, within the discretion of the Camp Director, parents will be called and law enforcement will be contacted to continue investigation.
All clothing should be modest and appropriate for the activities the camper will be involved in at camp. Shorts must have a minimum 5″ inseam. Spandex shorts, bikinis, spaghetti strap tops, skinny style jeans, yoga pants, leggings, or French-cut swimsuits are NOT acceptable clothing for Bible Camp. EVERYONE should bring a t-shirt to cover up over swimsuit if unsure about the swim attire standards. Males will be required to wear a t-shirt at ALL times, including sport activities with the EXCEPTION of swimming and showering. All clothing (except jackets and sweatshirts) worn by by boys, girls and staff need to have short or long sleeves and cover past the waistline. Modesty is the standard while at camp. Campers will be told to change any clothing found to be improper by the Camp Director.
Footwear: Tennis Shoes or other footwear protecting toes should be worn at all times. No bare feet, except during volleyball and on swimming beach. Shoes are to be worn to and from swim area. Flip-flops are suggested going to, during, and returning from showers in Cabins.
Deliberate destruction of property, theft, fighting, cursing, injurious or abusive behavior, or any other disrespectful, unbecoming behavior will not be tolerated. Additional safety rules are in place for waterfront activities and other camp activities.
Our camp has a "NO CONTACT" policy regarding physical touching, kissing, hand holding, wrapping up together in blanket at campfires, etc. by campers.
Violation of these CAMP STANDARDS (or any other behavior deemed inappropriate by the Director) may result in loss of privileges at camp, liability for repair or replacement of damaged property, or expulsion from camp. Parents (or Guardians) are responsible for the pickup and transport of an expelled camper. Parents (or Guardians) must provide active phone numbers on Registration Form where they may be reached in the event of a medical emergency, serious illness, or disciplinary action.
Prior to leaving for camp we ask that you contact the Camp Director if a camper is experiencing any of the symptoms listed below:
Fever
Cough that becomes productive
Chest pain
New loss of taste or smell
Changes in the skin, such as discolored areas on the feet and hands
Sore throat
Nausea, vomiting, belly pain or diarrhea
Chills
Muscle aches and pain
Extreme fatigue
New severe headache
New nasal congestion
*In the case of an of these symptoms being present, the Camp Director will consult with the Camp Nurse on next steps.
Once arriving to camp your first stop will be at the main gate. You'll be met by the Camp Director and Camp Nurse. Medications will be handed to the nurse at that time so please have them accessible. This will be the last chance to deposit any prohibited items with the Camp Director (money, cell phones, etc. - full list is in the Camp Standards section of this page). Any unpaid fees will be collected at this time. Camp fees must be paid in full prior to camp. Lastly, you'll be given the option to sign a release to allow your campers to be featured on our social media pages and/or website. From there you will proceed to the dropoff points. There will be two dropoff points, the first for boys and the second for girls. Campers will be met at each point by staff who will guide them to their cabins. Counselors will help them find a bed and get unpacked. Traffic will flow in one direction and we ask that vehicles do not park and only campers access camp buildings (this is to allow us to know who is on camp grounds at all times). If it is raining, registration will occur in the main lodge but should proceed much the same. We'll check in one vehicle of campers at a time and ask that you wait in your vehicle until directed.

Arrival time is between 3-5pm on Sunday, June 25th. If you can not be there during that time please contact the Camp Director to let him know.
Grace Bible Camp - Chippewa Falls, Wisconsin 54729